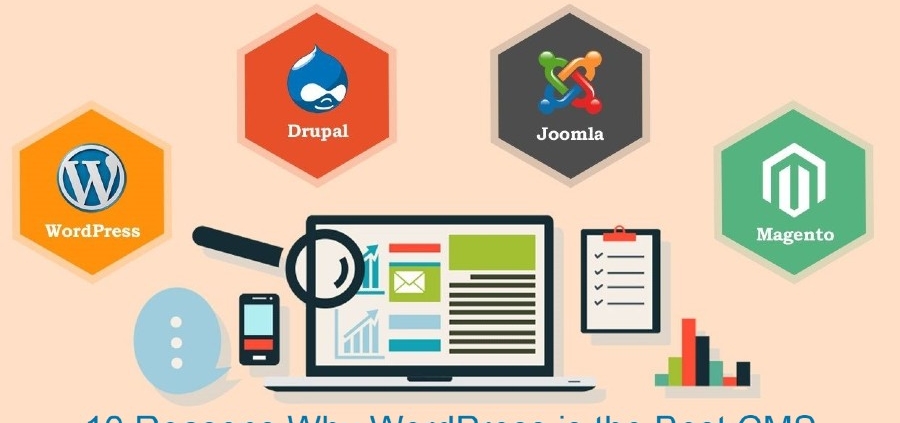 Whether you are running a blog or an e-commerce store, you need to keep your website's content managed well. Only then can you ensure its success. Speaking of the content management system (CMS), WordPress web development produces excellent results for SEO. Why is that? This guide will take you through all you need to know about CMS and why WordPress is good for SEO.
What is CMS?
When anything exists in a daunting amount with a demand that you pay proper attention to it, at one point or another, you need an efficient management system. The same is the case with websites to make sure that they are running correctly and productively. That is where CMS comes in, short for Content Management System. The content management system (CMS) is a software that you can use to manage your website's content in a structured manner and modify it whenever you need it. Many SEO agencies, whether global or local, like local SEO services London, are proficient in CMS for the best SEO service.
Reasons Why WordPress Is the Best CMS for SEO:
There are many content management systems (CMS) that you can opt for with the high demand. But every field has a top player, and, in this field, WordPress is deemed as the best one by many users. Here are 10 reasons why WordPress is good for SEO.
1. Top User Experience:
When it comes to the effectiveness and success of a website, user experience is everything. Every website targets specific users, and if the users are not satisfied, the website won't be of much use. That's why WordPress provides a convenient and satisfactory user experience, making it the best platform for your website.
2. Effective Use of Permalinks:
Many users will definitely appreciate this ease that WordPress provides. Another reason why WordPress is an excellent CMS is that it gives you the option to create easily understandable permalinks. Permalinks (or permanent links) are, as you must have guessed by now, the permanent address to a website in a more manageable form than a bunch of random numbers and symbols.
3. Easy to Handle Metadata:
Metadata is a set of information that relays collective data about the date of your website. Sounds quite a lot like Inception, but it is actually easier than you think. A set of metadata makes it easier for the search engine to know what your website is about and what information it consists of so that the search engine crawler can show your website in the adequate results.
4. SEO Image Optimization:
As you all have must have been aware of this, even in your childhood, text with pictures is much more appealing and engaging than simple and plain text. The same goes for any website's engagement with the user. Any blog containing the right pictures here and there will kick up its SEO rankings. WordPress provides the perfect optimization settings for your images.
5. Speedy Loading:
Nobody likes a slow, dragging website. One thing that WordPress is famous and loved for is its quick loading pages. WordPress web development provides this beneficial factor, which is another reason why WordPress is good for SEO.
6. Convenient Access on Mobile:
What is more exciting than your preferred website being available in a mobile version as well? If your question is that "is WordPress good for SEO", then here is another answer. It is just as easily accessible on a mobile, adapting to the different versions to provide maximum ease to the user.
7. Social Media Integration:
In the modern, digital world, social media is the largest and most effective platform if you want to share or promote something, including your website. For this reason, WordPress allows you to integrate buttons for your social media on the website so that it can be easily reachable and shareable.
8. Beneficial Plug-Ins For SEO:
Another one of the many benefits of WordPress is that it allows space for several plug-ins that will boost the website's place in SEO results. These plug-ins include keyword optimization, site mapping, and social media buttons.
9. Compatible with Software Tools:
There are several software programs that help in managing your content. Software like Google Suits, Sucuri, and Convert Kit are some of the top content management systems (CMS). The bonus is that WordPress is compatible with all these software tools; another answer to why is WordPress good for SEO.
10. SEO-Friendly and Aesthetic Themes:
Efficient web design contributes greatly to the satisfactory experience of the user. Due to this reason, websites need friendly themes to improve their SEO ranking. Keeping that under consideration, WordPress offers easy-to-use themes.
High SEO rankings are essential for a website to attract traffic. WordPress is the best way to go if you want to keep your website's ranks up high!
https://www.kanootesoft.co.uk/wp-content/uploads/2020/09/10-Reasons-Why-WordPress-is-the-Best-CMS-for-SEO.jpg
569
900
Muhammad Faizan
https://www.kanootesoft.co.uk/wp-content/uploads/2022/11/KanooteSoftLogoNew.png
Muhammad Faizan
2020-09-29 12:40:59
2020-09-26 12:47:49
10 Reasons Why WordPress is the Best CMS for SEO