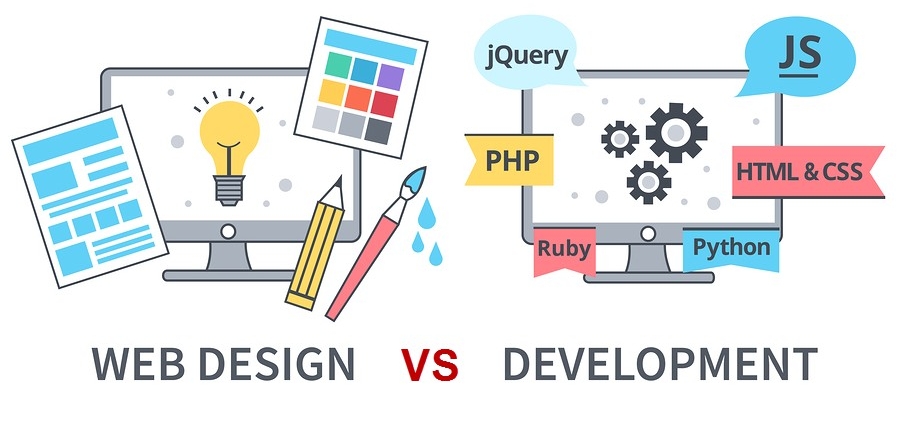 Are you in a fix between which of the two options to choose as a career? Which one is your specialty? Are you saying the right term and not confusing between the two? No matter which one is the question, if you have been looking into information about building a website, it is highly likely that you have come across the difference between web design and web development. Well, here is a guide!
The Difference Between Web Design and Web Development:
Though these two are not too far apart, they are still two different things. As surprising as it may seem in the modern world of advanced technology and almost everything is digital, many people are still not aware of the difference between web design and web development. If you seek to understand the difference between both, whether it is for deciding the right one as a career for you, or simply increasing your knowledge, you have come to the right place. Below is compared web design VS web development in sufficient detail so you can easily get the hang of it all.
Web Design:
The first thing that you see when you open up a website is its layout. Layout, or appearance, in layman's terms. This is where web design plays its role. Web design has to do with everything that builds up how a website looks. Other factors include the navigation ease of the website, the accessibility, and how easy it looks and is to use. What the website targets to provide to its users is another factor that plays a part in deciding the right design for that website. To sum it all up in the most basic words, web design is the looks and aesthetics of the website. There are a few factors that web designers must keep in mind when designing a website, which is as follows:
Easy Interface: A website cannot be very helpful if it is not easy to use. If the user has to spend half the time understanding and trying to navigate the website instead of getting the information or service they want from it, they are more than likely to quit after a few minutes and move to another website. Therefore, a website with a cooperative user interface will succeed more. Excessive redirection and long loading time are factors you don't want in your web design.
Balance in Color: Colors are an undeniable factor when it comes to coming up with a design for anything, be it a website or your bedroom wall. For web design, experts pay special attention to the balance of colors that take up a significant part of the design. Colors out of balance will make the website look amateur designed and even unpleasant to the eyes. Keep in mind that this is something that contributes to the user's likeability towards the website.
Contrast: As it is mentioned earlier, colors are an undeniable factor for web design. However, the perfect balance cannot be achieved without the perfect contrast in color. Not only does it look smartly designed, but it is also pleasant to the eyes. The contrast is important for making the customer comfortable with using the website.
Web Development:
All that information about how an apparently pleasing website does wonders in keeping a user satisfied must be good to know. However, all those design rules can only be applied if a website exists. Now, this is the point where web development takes the stage. Web development means to create a website and give it a live status. There are several programming applications and software present in the market for developing websites. HTML, JavaScript, CSS, and Python are a few popular names among the programming languages for a developing website. A few important rules that web designers must keep in mind when building a website are mentioned below.
Accessibility: A website will only be useful if it is easy to use. That is why web developers keep this factor on top of their development priorities that the website provides an easy user experience for the user's utmost satisfaction. If the website is easy to use and provides the user with what they came to the website for, they will probably return to it.
Layout: Here, the layout does not refer to how the website appears to be. This one is discussed with a more technical approach. In terms of web development, a layout refers to options a website provides to the user and whether it is easy for the user to go through the entirety of what the website has to offer.
With the confusion between web design VS development finally resolved, you can easily pick the option that you have been looking for!
https://www.kanootesoft.co.uk/wp-content/uploads/2020/09/Web-Design-VS-Web-Development-Whats-The-Difference.jpg
650
900
Muhammad Faizan
https://www.kanootesoft.co.uk/wp-content/uploads/2022/11/KanooteSoftLogoNew.png
Muhammad Faizan
2020-09-26 10:37:37
2020-09-26 10:37:37
Web Design VS Web Development: What's The Difference?