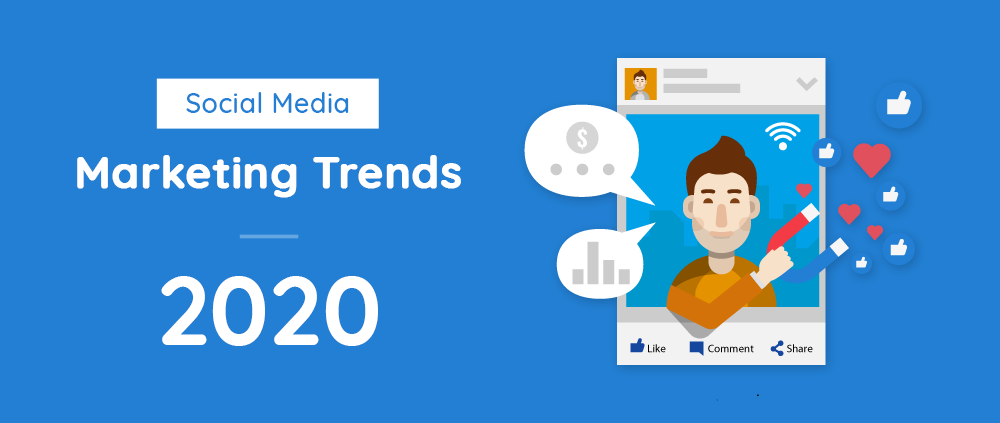 Top Social Media Marketing Trends in 2020: In the dynamic world of social media, the agile mindset is what will make a company stand out by keeping up with the top social media marketing trends. Platforms such as Facebook, Instagram, Twitter, and YouTube are now ad giants and e-commerce powerhouses.
There are 3.5 billion social media users worldwide, approximately half of the world's population. Low-price internet packages such as Jio in India and Chinese smartphones have made the internet more accessible worldwide. There is a smartphone in almost every household. Social media algorithm has ensured that users remain glued to their screens with buzzing notifications, and they receive highly targeted content. It has completely transformed the marketing landscape for small or big corporations alike, and marketers are using it to their full advantage. If you want the best social media services in manchester or London then feel free and contact us.
These are the top social media marketing trends to generate more traffic to the business website, create consumer engagement, and attract prospectus leads:
Videos:
Short, engaging, and entertaining video content is a clear winner of the social media content marketing strategy. A study showed that by 2022 82% of online content will be video content gaining more views and shares. Consumers want to achieve overall experience, learn about the product or service through posts, or even streaming Live.
Brands have always used storytelling as a way to engage their consumers. Now businesses use social media platforms such as YouTube, Instagram IGTV, Facebook posts, or the ever-rising Tik-Tok to tell their stories. Niche Chinese platforms like TikTok are on the rise with over 500 million users and with 1.1 billion installs worldwide.
Affiliated-Marketing:
Celebrities, influencers, and bloggers with millions of followers are increasing daily. Marketers and PR managers contact influencers with a similar target audience to generate leads for their businesses. However, word-of-mouth marketing through friends and families trusted by 61% of users rather than big celebrity endorsements. Thus, marketers are resorting to micro-influencers with targeted markets to penetrate communities and get their message across.
Read More: Top 10 Web Design Trends For 2020
User-generated content:
Businesses want to create social media marketing strategies that result in engagement. Sprout Social Index notes that engaging with the community with user-generated content will be on the trend as pointed by marketeers. Many companies have created hashtags and campaigns to create content on their platforms to promote their campaigns. Social listening is on the rise, and companies want to achieve a sense of community.
Ephemeral Content:
With 400 million users engage on Instagram stories daily, Ephemeral content is short, fresh, and direct as consumers engage with new information by refreshing their feed. They feel more connected and informed.
According to Hootsuite, 64% of marketers have utilized this strategy and have noticed better results.
Facebook tailored ads and Instagram shopping:
Consumers are becoming more comfortable with online shopping. Facebook carousels and Instagram shopping has made it easier for business for call-to-action rather than stating link in bio in their captions. With advanced targeting geographical ads, companies are using social media platforms to engage their targeted audience on a micro-scale by generating more leads.
Social media is a very dynamic and volatile environment. Therefore, companies must have strategies to meet these constant changes and remain at the top. Just like Vine, one day, an app may lose its popularity and lose all their audience in one day.
https://www.kanootesoft.co.uk/wp-content/uploads/2020/08/social-media-marketing-trends-2019-e1577943035162.png
500
1000
kanootesoft
https://www.kanootesoft.co.uk/wp-content/uploads/2022/11/KanooteSoftLogoNew.png
kanootesoft
2020-08-19 06:23:22
2020-08-19 06:23:22
Top Social Media Marketing Trends in 2020